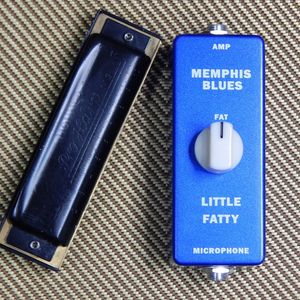 Thank you for ordering the MM Little Fatty pedal! It is an anti-feedback device that lets you dial in the FAT. 
Guitar amps are often very bad harp amps. Usually they have too much gain in their preamp circuits – causing screaming feedback – and not enough range in their tone controls – causing harsh tone.

The MM Little Fatty pedal will help you to take control of an unruly amp by reducing the input level to the amp. This allows you to turn your amp up higher to get that nice tube distortion and breakup before feedback.  Works great with screaming bullet mics.

The FAT control on the MM Little Fatty is an extension of the tone controls on a guitar amp. You can apply more high cut to smooth out and fatten up your tone.

USING THE MM LITTLE FATTY PEDAL

Power Source
No power source is necessary.
Hooking it Up

Plug your microphone cable into the "MICROPHONE" jack at the bottom of the pedal. If your mic cable has an XLR connection you may need an inline impedance-matching transformer to convert your signal to high impedance. No worries, it sounds a lot more complicated than it is. Google it. I use the Audix T-50K when I want to try a low impedance microphone. Use a regular instrument cable to connect from the "AMP" jack on the top of the pedal to the input jack on your amp.

If you use multiple FX pedals, make the MM Little Fatty the last in your pedal chain.

Setting Up the MM Little Fatty Pedal With a Guitar Amp:

1- Set your amp's treble control to the minimum, and the bass control to the maximum.  Set the volume to 3 or 4 to begin.
2- Set the FAT control to the mid position, straight up.
3- Use the FAT control to dial in the sound you want.  Turning it left (counter clockwise) will cut highs and fatten your sound.  Turning it right will brighten things up.
4- Increase the volume of your amp until it just begins to feed back, then back it off a bit.

All players are different, as are all mics, amps, and rooms. What works in one setting may need some tweaking in another. I usually have the FAT control just to the left of center.  Be prepared to occasionally fine-tune the pedal and amp. Again, use your ears. It's easy.
WARRANTY

The MM Little Fatty Pedal is warranted for one year from date of shipping to be free from defects in materials and workmanship.  This is a limited warranty that is void in the case of abuse or modification.  If you have an issue with the pedal, contacts us at info@memphisbluesamps.com.
The are no user serviceable parts in this pedal.  DO NOT open the pedal.  Doing so will revoke the warranty.
DO NOT return the pedal without contacting us first and receiving an RMA.
 

Thanks!
-Rick Davis
Memphis Blues Amps
P.O. Box 6052
Sheridan, WY  82801
info@memphisbluesamps.com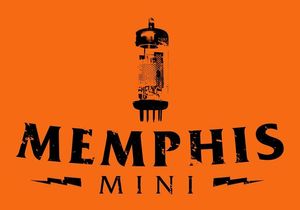 ---
Memphis Blues Amps
P.O Box 6052, Sheridan, WY 82801
call or text 530-408-6710 - info@memphisbluesamps.com
Specifications are subject to change at any time without prior notice.