---

We are a Blues Business Associate of the Blues Foundation, Memphis, TN
---

What players are saying about our gear:
From Gary Smith, Godfather of South Bay Blues and author of 'Amplified Blues Harp Demystified', after playing the Memphis Mini amp:  "It's a great lil' beast!"
- - - -

From Jerry Portnoy (Muddy Waters harp player):  "My Memphis Mini gives me that classic Chicago sound in a small lightweight cabinet. I love it!"
- - - - 
From Stephen in Georgia:  "I finally got to play an MM and I will say it will be tough to beat..the tone is sweet and very powerful."
- - - -
From Joe in Rochester NY:
"Rick, the sound is unbelievable--exceeds expectations right out of the box!! Thank you so much. My cupping technique sounds awesome with your amp and the Bulletini mic--the fat sound I have been searching for--not too much dirt either--just perfect!!!!!! I can't wait to use it tomorrow night!"
- - - -
From Matt Palermo:  "This little powerhouse package is all I need at a gig.  Thank you Rick Davis!
- - - -
From Jon in St. Louis:  I played out with it last night for the first time. It has so much character, allowed me to go to places I hadn't been in my playing. Knocked the crowd out at the venue. At times I had to look and make sure I wasn't going through a 410 Bassman! ... Again, my humble thanks. Regards, Jon
- - - -
From Gary in FL:  "Rick, I received the amp and wanted a couple of weeks to put it though the paces before I replied. Your comment, you played the amp and it sounded awesome is an understatement! I have played the amp and it sounds incredible. Combined with the delay box I am extremely impressed. ... Thank you for the incredible product! I plan on putting this amp to much use and would recommend it to any serious harp player. Rock on, Gary"
- - - -
From Mathew in MA:  "I've thought about this purchase for well over a year and I've owned and still have many giggable amps right down to a couple of vintage amps, and this [Memphis Mini] amp is killer with my new Bulletini Mic, and I have to say it's the end for looking for the gig rig for the scene here on cape cod and if it works for master JERRY PORTNOY it works for me!  Thank you Rick Davis for dialing it in perfectly."
- - - -
From Cody in Oregon (Memphis 20 amp):  "HOLY S**T did that amp SING! The overtones are the prettiest I've heard from any amp I've played and also the grittiest which makes for a stunning combination."
- - - -
From Sugar Cain, maker of excellent hand crafted custom harmonicas, on his Memphis Mini amp:  "I'm in love with this beast of an amp. Really lovely tone, the best I have ever heard to date."

- - - -
From Perry in PA:  "Hi Rick, I received the amp, delay, and the 9v adapter yesterday. All in perfect condition and sounding awesome. So far it seems that the tone I am getting is better every time I play. I understand about the cone break in, but am sure some of that is me feeding off of what I am hearing.  Thanks for the great products, Perry"

- - - -
From Tom in NH:  "Rick, It has been a year since I have had this amp. Man it is a killer. I had to crank it up fighting a guitar player and it just screams. Thank you for making a high quality amp with great tone for such a low price. My wife commented on the looks and quality of the cab. It looks great in my music room. … I don't ever remember endorsing any product but I really think you hit a homerun. Thank you. -- Tom"
- - - -

From Borre in Norway:  "Played the new Memphis Mini with the MM Delay Pedal on its first gig yesterday. Killer sound, plenty of volume and no feedback problems. This little critter will be standard equipment from now on. I'm super-happy! "

- - - -

From John in Hilton Head Island: "Gotta tell you, this thing is a little beast that I wouldn't be afraid to use anywhere and no more carrying a heavy ass amp. Cool..."

- - - -

From Connor Frontera in Brooklyn NY:  "The Memphis Mini amp is awesome. I like the way you can get a full range of tones out of it without sacrificing volume or using effects. It's very, very loud and has a lot of headroom too."

- - - -

From Randy in Colorado:  "Hi Rick.  All I can say is wow!  This amp is incredible!  The Lows are so deep and rich!  And the Mids and Highs still punch through with plenty of crunch!  I just love this little thing! Thank you so much for an amazing amplifier.  Cheers."

- - - -
From Steve in Chicago:  "Magnificent. What a birthday present. Thanks, Rick. She sounds like red wine."

- - - -
From Jorge in Chicago:  "I almost bought the Windy City Amp until I saw yours..the tone on the MM destroyed it..which is hard for me to admit since I am a native Chicagoan :-)"

- - - -

From Richard in CT:  "Hey Rick, Hope all is well. I must admit my MM sure beats the Harp Train. I use the MM for gigs and the HT just for rehearsals. You make a great product. Thanks !"

- - - -

From Jeff in ME:  "Got it! Wow!  Sounds better than my old 62' Champ!"

- - - -

From Chas in the UK: "I've just collected my amp and had a quick blast before going to work and wowzer it's great to hear in person, I'm really looking forward to using it with the band and friends."

- - - -

From Mike in Marblehead Mass:  "Awesome just got the amp and the delay as they say in New England wicked pissa"

- - - -

From Gary in Arkansas:  "Got it today!  Love it,Love it, Love it!"

- - - -

From Canada's great bluesman Pat Loiselle:  "I loved the Memphis mini on the gig ... so small yet so big of a sound ... no feedback issues ... fine job!"

- - - -

From Steve in Big Bear City, CA:  ""Hey Rick just wanted to say thank you.. I can't even begin to tell you how great the sound I get from this rig.. have a good day." 

- - - -

From Adam Gussow:  "A rich, pedigreed crunch-and-bark."

- - - -

From David in Ireland:  "Hi Rick. My new Mini finally made its way through customs and the Irish mail. The amp sounds great. Two thumbs up!"

- - - -

From KM in Michigan:  "The Memphis Mini wins hands down, it is smaller in size but larger in sound than the Harp Train 10."

- - - -

From Manny in AZ:  "So I got my MM last night, and all I can say is WOW!!! I plugged in with my stock green bullet and that guy sounds amazing!! For a smaller amp, it sure packs a good punch! I'm more than satisfied with your amp! Great job in building such a outstanding product! And I appreciate the contribution to the harp playing community! This such an amazing amp I can't say enough about it, thank you, thank you, thank you!!"

- - - - 

From Phil in PA:  "I love the Mini, it's awesome!!"

- - - -

From Paul in Oregon:  "Just got it.  I played through the amp at the Thursday night jam session. Didn't even practice with it...just turned it on and played. People were in awe of the new harp sound. In fact I laid down the Tenor sax and played harp most of the evening."

- - - - 

From Paul in the UK:  "Had a day with the amp, it sounds superb!!!  In the words of my Mrs, 'That sounds professional.'  Many thanks, Paul." 

- - - -

From Chris in Australia:  "The Amp arrived on Thursday and sounds great both with and without the delay pedal and even has an Australian electrical plug so I could immediately switch it on and play.  It is the sound I have been looking for and I can't wait to play it at a gig."

- - - -

From Olaf in Germany:  "I'm back in Germany and checked it out. The sound of the Memphis Mini is really great, I love it. Soft and mellow but precise and great attack at the same time.  Thanks again for your fast response.  Best regards."

- - - -

From Paul Burke in ABQ, via Facebook: "We all know if anyone buys this amp as I did.. you plug it in, you grab your mic and pick your favorite harmonica, as soon as you blow that first note.... Bam!!! you got that instant Little Walter sound."

- - - -
From Michael in the UK:  "Unwrapped these today and can't believe the sound this little amp kicks out. I'm so impressed and pleased I decided to change to this setup. The tone is bang on and it's SO loud. I really feel like this gives me an immediate improvement to my sound. Thanks Rick. I'm one happy harp player. Michael, Devon, UK."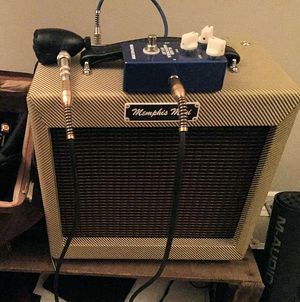 - - - 
From Dale in MO:  "Hi Rick...MM #382 arrived today and first impression is that all the great reviews this little amp has been getting are well deserved.  It has great buttery tone and when you hit it hard, it breaks up nicely. Thanks for making such a great affordable amp"

- - - -

From Joe in Boston:  "Love the amp. Head-to-head, your delay pedal outperforms the Lone Wolf. I'm putting my LW pedal and '78 Champ up for sale."

- - - -

From bluesman Gil Correia:  "That's my friend Bruno Berloto to my left.  He blows thru a Memphis Mini and gets some Nasty Tone.  It's a great amp."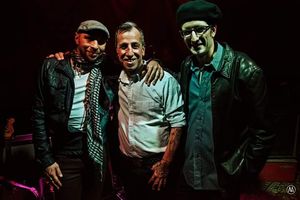 - - - -

From Bruno Berloto, harp player with Gil Correia in South America:  "Hi all, I am harp player from Montevideo in Uruguay, and I have been playing blues for 20 years now, I must to say the Memphis Mini is BY FAR the best amp I have ever played, suitable for ALL venues from small to the biggest ones.. The True Tone Line Out option is fantastic because it doesn't lose his tone!! Just an awesome amp for the price!!!"

- - - -

From Ronnie Shellist:  " I still love the MM today as much as I did the first time I ever plugged into it and played it."

- - - -

From Jesse in Vermont:  "Rick, The amp came in and it sounds great! Smaller & more powerful than I imagined!  Thank you for the great service and emails."

- - - -

From Dave in Tennessee:  "Just wanted to touch base with you.  Been gigging with my MM for a few months now and just gotta tell you I love it.  Using an old 80's model green bullet and your delay pedal.  Been playing with some heavy hitters in Nashville and they're all blown away by the sound (and the size).  Soundmen have had nothing but great comments about the lineout quality.  And (sprinkles on the icing on the cake), the MM fits in the tourpack of my Harley...pulling in to blues gig with all your gear on a Hog...doesn't get much better than that!!!  Thanks and blessings."

- - - -

From Brian in New Mexico:  "Hi Rick, amp arrived safely that's always a relief.  Amp looks beautiful and i have to say this amp has Monster Tone wow i was totally blown away.  Sounds like a big amp notes really pop out like a horn, it's gritty great for that Chicago Sound.   I also really like your delay pedal it provides just the right touch.  I usually use the DD3 from Japan with my HarpKing amps and Sonny Jr amps, and now I use yours regularly.  Thanks for a great contribution to the Blues Harmonica World."

- - - -

From Adrian in Ohio:  "Hi Rick,I received my Memphis Mini amp about 10 days ago and I have to say it's everything as advertised. Great vintage tone and crunch. It sounds awesome on it's own but with a delay pedal,WOW. Thanks for a fantastic amp."

- - - -

From Dennis in Sylmar, CA:  "I may not be worth a million bucks but damn this Memphis Mini Amp sure sounds like one."

- - - -

Via Twitter, from a MM amp owner in Canada: "@RickDavisBlues I use this amp lots, great portable amp and awesome Tone! Wicked Wicked tone!"

- - - -

From Anthony in the UK:  "My Memphis Mini had it's first proper outing last night. First rehearsal with a new band. I must say how impressed I am, it really punched above it's weight, and absolutely no feedback problems, a first for me. Well done Rick!"

- - - -

From Clint in Oklahoma: "I used the Memphis Mini Amp in the Studio yesterday. Once again it worked like a charm. ...how can I properly describe the sound we got... buttery smooth with just enough crunch to keep us feeling like men. I love this amp!"   

- - - -

From Steve Tuna in MA:  "So I played my Memphis Mini plugged in to the PA system last night - WOO HOO!!! What a way to go! Thanks for your great product!"

- - - -
 
From Barry in Oz:  "Loving the MM amp. It is actually improving my playing.I can hear all the subtleties of sound the amp produces from the cupping pressures of my hand and is helping to create dynamics in my playing. Great little amp with a nice big sound. Cheers!"

- - - -

From Nicolas Fouquet in France:  "In this amp category, the Memphis Mini is the best.  It is far above the others.

I have finally been able to compare it to the Lone Wolf amp I have read and heard so much about from my recent customers.

The two amps do not compare to each other.  Really nothing!  Their sound and their tone are very different.

Lone Wolf has a less toned sound, more plain.

With respect to power and volume, the MM would tend (and I mark my words to not offend anyone) to overwhelm the Harp Train.

The MM is worth every penny, and the Lone Wolf is way too expensive for what it does.  You can get better, more powerful amps for the same money or less.

The MM is very seducing and I can see why people like it.  It makes you feel as if you are on Beale Street in the 40's.  The tone is wonderful!  And it makes average players sound good and good players sound great.  It is very powerful as well.  More power and much more guts than the Harp Train."

(Nicolas Fouquet is a French-born harp player from Limoges.  He is the son of a famous French guitar maker, Claude Fouquet, grandson of a Jazz Musette soprano sax player, and great grandson of a Spanish flamenco guitar player.  He is a respected harp tech and well known for his expertise on harmonica playing, amps, and mics.)

- - - -

From Jason in Texas:  "Got it a few days ago, and I can't keep my hands off of it. Very pleased with my purchase. Tone to the bone... Thks"

- - - -
 
From Bob in Arizona: "Cool...I appreciate the personal attention you pay to your customers."

- - - -
 
From Steve in Mass:  "Just arrived!! WOO HOO!!"

- - - -

From Rob in Canada:   "I just got out of the rehearsal studio and it sounded fantastic. Lots of crunch and tons of volume…   I also miced it through the PA with a SM57 but I  liked the sound through the line out better. "

- - - -

From Serge in France:  "Great star of the harmonica festival at Saint Aignan Sur Cher: The Memphis Mini Of Rick Davis Memphis Blues Amps. The festival-goers worshipped the great sound in the street!"

- - - -
 
From Jeremy in Arkansas:  "Played my Memphis Mini at the Juke Joint Festival in Clarksdale MS in April 2015. The gig was supposed to be a two piece (harp and guitar) but turned into a five piece band. Much to my pleasure, the Mini cut through a full band (without using the line out) and I had all the tone a harp player could ask for. My guitar player even said "Man that little amp is loud!" Thanks Rick for the great little monster you've created."
- - - -

From Carlo in Italy:  "Yes, Yes, Yes !!  used by itself, alone, it sound pretty good but when connected to the PA it is simply amazing. Just a drop of reverb and the Mississippi Heat blows out.   Thank you for a job well done !"

- - - -

From Bruno in Uruguay: "Hi Rick, I finally go home with my amp and I have been testing it with my favorites mics, wow sounds awesome!! I will play my first gig next saturday!! Thanks for a great amp!!"

- - - -

From the amazing Todd Parrott: "I love the sound of the Memphis Mini. I played through one at the Midwest Harmonica Workshop and it sounded great!"

- - - -

From Dave in Columbia, MD: "Rick - I received the amp yesterday. I immediately played it and it sounded GREAT. I took it to band rehearsal last night and my band-mates also thought it sounded great. I have a show this weekend and am looking forward to using the amp and in particular the line-out to the PA. Thanks again for your service to the harmonica community."

- - - -

From Ernest in Kansas:  "The amp got here in one piece, and I'm blown away at how good it sounds. ...  Amazing it is .... and amazingly feedback resistant, too.  
Thanks for your great work."

- - - -

From Buck in Louisiana:  "I have owned several of the "great" Fender Tweeds including a 1959 Champ and a 1959 Bassman. Real vintage amps, not RIs. Right out of the box my Memphis Mini has that '59 Champ tone and with the line out feature I am getting very close to a '59 Bassman tone; nice and fat with lows and low mids just right for harp. Exactly what I hoped for. Almost unbelievable tone from such a compact unit and affordable price.  And thanks for taking time to answer all my questions."

- - - -

From Dave in the UK:  "Got my MM in August. Trust me, you will not be disappointed, awesome amp. Nothing in the UK comes close. Best money I spent. All the best. Dave"

- - - -

From Darryl in Toledo:  "I got my Memphis Mini today and man, this is one nice amp.  This thing would have saved me a fortune over the years.  Really great product.  Fantastic!  Thanks, and have a great day and a Merry Christmas."

- - - 

From Ronnie Shellist:  "This amp sounds great whether i am playing it at low low volume in a duo setting, or cranking it up with a full band."

- - - -

From Robb in Canada:  "Hi Rick,  Just played my Mini for the first time. After several amps this is the best amp I have ever played my harp through. ... Thank you so much for your wonderful service."

- - - -

Thomas 'Harpsucker' Feldmann:  "Memphis Mini sounded good, full band and still loud enuf"

- - - -


From Bill, a guitar player:  "I put a RCA 12AZ7 in the Memphis Mini and it's AWESOME!  The range of sound and how cranking it makes it growl,  I don't play the harp and was looking for a champ amp. I'm done, this is it!  I might have to make my first video. People won't believe how good this sounds.  Great job and thank you very much!"

- - - -

From Rodrigo in South America:  "Hey Rick, I'm back to Brazil and just came from my first rehearsal with my band....LOVE THE AMP!!! Thank you!!!!!!"

- - - -

From Sheldon in Nashville:  "This thing screams! And it has that '59 Champ tone!"

- - - -

"Hi Rick-Just got the amp.Sounds great and no feedback.I finally have a real harp amp!.Keep up the good work, Brian"

- - - -

From Dennis in Tahoe: "I've figured out that my new (loving it) Memphis Mini will fit into a carry on roller bag along with all required cables mics and harps.  Well done, Rick Davis!"

- - - -

"Hey Rick, I talked the host of the open mic jam to let me use my new amp on a couple songs. They were blown away by the sound. The five time Grammy winner keyboard player , he also plays harmonica said that was the best harp amp he has heard."

- - - -

From Kevin in the UK:  "Hi Rick, Just writing to say how pleased I am with the amp.  Here is a short video of me playing through it."  (See Kevin's video HERE.)

- - - -

From Eric in Texas:  "That amp kick ass. It's worth the wait. Side by side to the [xxxxxxxx] amp the Memphis Mini kicks it ass. Fine work Rick."

- - - -

"Hey Rick now I have my brand new Memphis Mini at Costa Rica and sounds great . This is my principal amp now . Respond amazing even between two animal guitar players jejeje . Lot of thanks and I looking forward to trying other microphones to hear with the MM . Thanks"

- - - -

Mario Hemken in Germany:  "Pack small, play BIG!  Fat tone and crunch. Everyone who knows how to play the harp right will love that!"  (See Mario's video HERE)

- - - -

From Brad in Idaho:  "Hey Rick I just wanted to write and say thank you. I've used my Memphis Mini at 3 gigs now and I couldn't be more impressed. The tone is unbelievable! Keep on doing what you're doing man, cause you've got something here for sure. Cheers ~ Brad"

- - - -

From Kareem in Alabama: "I wanted you to know I love my new Memphis Mini. It has great tone. My band is very impressed with the quality of sound. Can't wait to play it at my next gig."

- - - -

From Rich in CT:  "My Memphis Mini Amp arrived at 12:30 this afternoon. What a great sounding amp!!!  The tone is fantastic,something I've been trying to get for years. This little amp has some "balls"."

- - - -

From Gary in Alabama:  "Thanks so much Rick.  The amp is everything you said it would be.  I did not get to use it for The Jimmy Thackery Show (which was a big success) but it is ready to go for the next oppurtunity.  If this was E-Bay I would give you a five star rating across the board.  The G-Man, a satisfied customer."

- - - -

Hi Rick. Thanks a lot for a great amp. I have been thru many amps for harp over the years.  I have a 1959 tweed champ I thought was the best small harp amp. But now it is going up with the rest.  This Memphis Mini is every bit it is said to be and more. It has that rasp tone with plenty of bottom, and loud!  Wow. Looks like my gigs are solved when it comes to amps. Keep up the good works these, in my opinion will go down as one of the best small harp amps made. Thanks. Rob in Ohio.

- - - -

Noel in BC Canada -- "I got my Memphis Mini amp today and I'm so very pleased with it. I just absolutely love it, it's just super. Again, I can't thank you enough. Rick."

- - - -

Brian in Tulsa, OK:  "The Memphis Mini arrived on Thursday. Loving it! It's a beautiful little amp with a gorgeous big sound. Thanks!"

- - - -

Steve from Big Bear, CA, after receiving his Memphis Mini amp:  "Rick you are da man.  After going through a number of amps I found my sound.  It's amazing . I may only be a back yard player but I sound like the big guys... I was surprised that it really DOESN'T  even need effects . I used the line out to a PA. with just a little delay and  OMG ...THERE IT WAS  great blues sound I've been looking for for years. ... Thank you."

- - - - 

JD Taylor of Jackson, Tennessee:  "Rick, really enjoying this little bundle of tone!"  (See JD's video HERE)

- - - -

Jeremiah from Lake Arrowhead, CA:  "I just got this Sweet Tone-Tastic Amp last month. The Memphis Mini is the best thing that has happen to my sound. Big, Full, Rich,............Tone-Tastic.....Thanks for your craftsmanship Rick Davis."  

- - - -

Nic Clark, after touring with the Memphis Mini amp:  "It is killer!  It kept up with the band.  The guitar player was playing a Super Reverb and Curtis (the bass player) had a giant Ampeg, and the Memphis Mini kept right up.  My problem with small amps is that they usually don't have enough push, they don't move enough air.  But the MM amp was right there!  Luckily it doesn't feed back at all so I can crank it when I need to.  That amp is made for tone.  It allows you to train your ear.  It is a great f**king amp!"

- - - -

Pro bass player Curtis Hawkins said this about Nic Clark's MM amp after touring the midwest:  "I'll give credit where credit is due. The Memphis Mini stood tall when the band built up and got big, it had body and a fullness when we broke it down and stayed there for awhile. I've been telling players for a long time that small amps are the ticket and the Memphis Mini is what you need to roll with!"

- - - -

Rich in SoCal wrote: "Another great feature is the fullness it creates for just a little bitty thing. Every time I play it I am amazed at the depth, fullness, and tone. Up at about 6 or 7 it turns into a different amp. This amp is just a little butt kicker"

- - - -

Steve in the UK:  "I've never played an amp that breaks up so smooth!"

- - - -

Hi Rick - I took the Memphis Mini amp to a local jam tonight which is always loud and heavily guitar based.  I used the line out to the PA and was very impressed at how it sounded.  This is a great little amp and I look forward to many years of use.
Cheers Kevin
Oxford UK

- - - - 

J Robinson in Newton, IA:  "RAW guttural and REAL"

- - - -

Buzz Krantz in Elk Grove IL:  "The sound man said this thing really has teeth. Everyone at the jam loved it. It totally blew me away.l used the direct out. It was beyond perfect."

- - - -

The Memphis Mini arrived on Thursday so I've had a few days to play with it, and it is one beautiful creation, it is everything and more that I have been looking for in a real professional Harp Amp, the sound is spot on, been using it with a old Green Bullet Mic, many many thanks, what else can I say, it's one wicked sounding Amp, The Memphis Mini,  everyone who plays Harp should have one in their line up !
Cheers !
Thank you so kindly
Kerry 
Ontario,  Canada

- - - -

"My Memphis Mini arrived safe and undamaged today. It sounds great I absolutely love it."

- - - -

(Memphis Mini owner on the phone, shouting.)   "There is NO WAY you can get tone THIS GOOD from an amp for UNDER $500!"

- - - -

"Fantastic!  It plays like a mini-Bassman.  Clean when you want it and dirty when you push it.  Big tone."

- - - -

"Hello Rick 
Just. wanted you to know I have had the amp for a couple of weeks now it's everything you said it is, I could not be happier 
Thanks"

- - - -

"My amp is arrived today :  cable and power for 220v in France are OK, it works, and it sounds !!! I will talk about it to my friends, I'm sure you will have many other french customers  - I'm proud to be in France the first owner of this little jewel… Un petit monstre avec un gros son, je suis heureux !"

- - - -

"The Mini arrived yesterday safe and sound.  What a sweet little amp!!  You're right it does kick ass. Thanks again for all your help. Happy, Happy Camper."

- - - -

"It sounds Radical, in the most positive sense!"

- - - -

"Dollar for dollar it's the best 5-watt harp amp on the market."

- - - -

"It sounds like a beefier tweed Champ."

- - - -

"I have a VHT that I put mods in, and a Valve Jr with a tone knob and harp mods.  I've been playing around with the Memphis Mini and it's definitely got the tone and nuances, I can't even listen to the VHT or Valve Jr. anymore; they're getting sold."

- - - -

"The Memphis Mini is a giant in tone and versatility. I got mine today and played all different styles of blues and rock. I added a bit of room reverb to it, and even a short delay signal sounds nice. And it's a quality built beauty, too. This amp is definitely worth every dime. Thanks Rick!"
 
- - - -

"The Memphis Mini is a tone monster, and it is working with zero feedback. To my pleasure, absolutely." 

- - - -
 
"A Great Little Amp that IMO edges out my all-original '57 Champ."
- - - -
"Line out feature works great... the amp is all that you claim it to be. To me, it would hard to believe any player could be disappointed with this great little amp! I love it, and it's perfectly suitable for my gig needs & requirements." 
- - - -
"It arrived and it sounds fabulous."
- - - -
Hi Rick, This Is Bob ****** the owner of MM# 0020. I too am loving the amp, I have played it successfully In jams here on the island and at jams in Florida. Some blues but lots of 3rd position playing to minor keyed covers. In all instances using it as a monitor and using the line out to the pa it works great.
I usually ride my wife's bike to jams here on the island and can put the mini in her bike basket , while I have my other stuff in my backpack. So... the mini is contributing to lowering my "carbon footprint" !!!! Another great benefit of the mini..
What blues fans are saying:

"This is the best I have ever heard you sound!" 
 
---